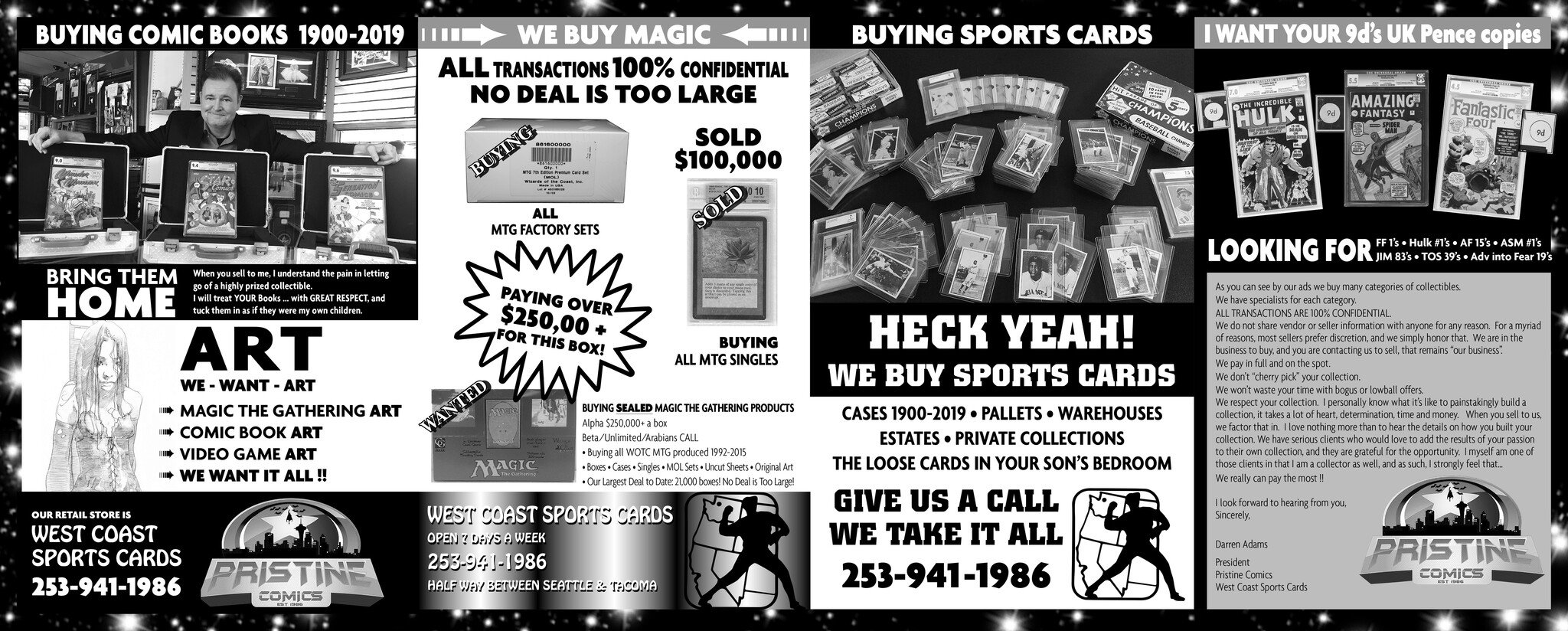 Above is a copy of our 2021 Overstreet advertisment!
we are an advistor to overstreet priceguide, the priceguide bible of the industry. see our fold out centerfold advertisements in the latest overstreet priceguide. We are located in the great Pacific Northwest, halfway between Seattle and Tacoma in Federal Way, Washington, and have been in business for over 30 years. Having made headlines numerous times over the years, beginning in 1991 when we sponsored the Anaheim National Sports Card Convention. This was the granddaddy of them all, with an attendance easily exceeding 100,000 + people and remains an attendance record still unmatched in sports card conventions.
Shortly thereafter we made worldwide news, including a feature on Good Morning America, after we received the exclusive rights for all cards signed and dated by O.J. Simpson during his incarceration for what was then dubbed "the trial of the century." The deal was negotiated within 72 hours of the infamous white Bronco chase scene. As interest peaked in these cards, we made a conscious choice to sever ties when trial quickly turned ugly.
Since we began, we have kept our finger on the pulse of all things collectible in pop culture such as Stan Lee Signed Comics, Sports Cards, Memorabilia, Pokemon, Yugioh, Magic the Gathering, Beanie Babies. At one time we set a record for selling the most valuable Beanie Baby in existence, as well as setting a World Record for the first ever Magic the Gathering card to sell for over $100,000.
Our parent company, West Coast Sports Cards, boasts a 5000 square foot store, and Pristine Comics is our record breaking comic book division. We have achieved many accolades over the years. Some of our credentials include: Founding member of SCAI, and Overstreet Price Guide advisor and advertiser. Press credentials include being featured on ABC, CBS, NBC, FOX, CNN, MSNBC, CNBC among others.
Most notably, we hold the Guinness World Record for the selling the most valuable comic book in the world Action Comics #1. We also set records recently for selling the most valuable female character in comics with the sale of the highest graded copies of All Star Comics #8 CGC 9.4 Sensation comics #1 CGC 9.6 and Wonder Woman #1 CGC 9.0 key Wonder Woman comics, Please see our press releases.
With a proud legacy dating back to 1986, the pre-internet era, we have been nationally advertised in mail order. Since 1989, we also established a thriving brick and mortar store. Our enduring presence in both realms signifies our unwavering commitment to your satisfaction. Rest assured, with us, your contentment will always remain our top priority.
Sincerely,
PRISTINE COMICS & West Coast Sports Cards 2008 S. 314th st.
Federal Way, WA 98003
253-941-1986